ONYX PHOTOVOLTAIC GLASS

High Systems Electromechanics LLC is the authorized distributor and installer of ONYX Solar in UAE supplying transparent photovoltaic glass for buildings. Onyx Solar uses photovoltaic glass as a material for building purposes as well as an electricity-generating material, with the aim of capturing the sunlight and turn it into electricity.
ONYX Solar Glass Properties
ONYX Solar Glass panels are made of layers of heat-treated safety glass which can provide the same thermal and sound insulation as conventional architectural glass, not to mention the fact that they also let natural light go through in the same way as conventional glass. Thus the photovoltaic glass glass panes could be installed replacing conventional glass on building facades, curtain walls, atriums, canopies and terrace floors, among other architectural applications. These glass panes could additionally be installed on a wide variety of existing buildings and facilities, therefore contributing to their enhancement both from an aesthetic and energetic point of view.
Photovoltaic
PV Glass generates free and clean electricity thanks to the sun, turning buildings into vertical power generators.

Multifunctional
PV Glass lets natural light go through. It also provides thermal and sound insulation, ensuring great filtering power as 99% of UV harmful radiation and up to 95% of IR radiation can be absorbed.

Financial Benefits
ONYX PV Glass works as a revenue-accelerator. Enjoy long term energy savings, tax credits and incentives.

Aesthetic
ONYX PV glass can be easily adapted to the needs of clients making it possible to choose the shape, color, size, thickness and grade.

Amorphous Silicon Photovoltaic Glass
Amorphous silicon photovoltaic glass (PV glass) features a combination of functionality, efficiency and aesthetics. This material can be the perfect substitute for conventional architectural glass placed in buildings because it offers the same mechanical properties in addition to the advantages mentioned a few lines below.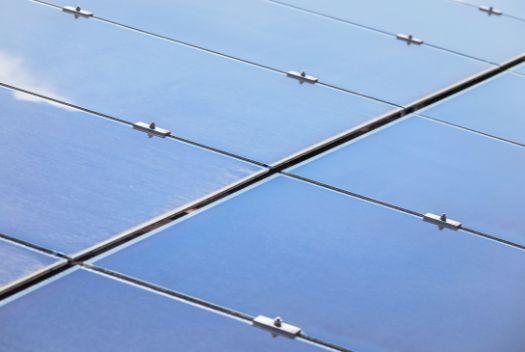 Advantages of Amorphous Silicon PV Glass
ONYX Amorphous Silicon PV Glass produces more power that crystalline silicon glass in overcast weather and high temperatures.
It offers different visible light transmittance levels, up to 30%.
It offers flexibility in design since it can be tailored to the architectural needs.
Amorphous silicon glass is the ideal material to be used as it can provide buildings with a lot of natural illumination in their interiors.
It's filtering properties are also highlighted because both harmful UV radiation and IR can be absorbed, thus, improving its thermal insulation.
Amorphous silicon photovoltaic glass features both good thermal and sound insulation properties.

Crystalline Silicon Photovoltaic Glass
Crystalline silicon glass features more power installed per SqFt in comparison to amorphous silicon glass. This means that under direct sunlight crystalline silicon glass can yield twice as much energy as amorphous silicon glass. This PV glass technology is suitable for those buildings and facilities with good solar orientation which seek maximum energy output.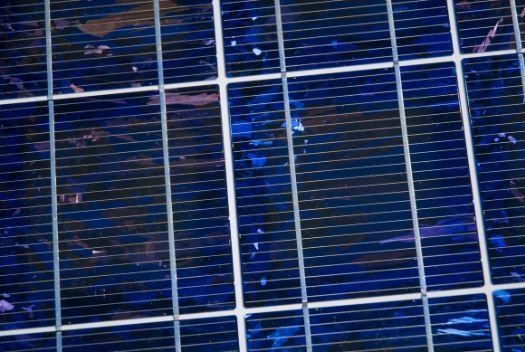 Advantages of Crystalline Silicon PV Glass
Crystalline silicon glass can be easily customized, especially in terms of shape.
Greater nominal power capacity per SQFt
Crystalline silicon glass installations take up less area for a given amount of kWp to be reached compared to amorphous silicon glass installations
Crystalline silicon glass' efficiency can go up to 16%

Applications on ONYX PV Solar Glass